By Christopher O'Brien
You Can Dream…
In early 1993 when I began what became a 10+ year intensive investigation of unexplained events in the San Luis Valley, Colorado, one of the first things I imagined was setting up a surveillance net of cameras around the SLV to attempt to capture on tape (we still used videotape back then) the many sighting reports that, at times, poured fast and furious into command central located in my tiny mountain community of the Crestone/Baca Grande. Early on, several of my own personal sightings were so spectacular that I was seriously inspired to cost out what a high-tech system would cost to install. It didn't take long for me to realize that this vision was impractical for several reasons.
First, static camera placement automatically meant you'd either needed to be psychic, or you had to be extremely lucky to have cameras in the right place at the right time. Second, how would they be able to go from an idle position into full blown record mode? Without that capability, you would be bogged down w/ 4-5 tapes per day that you would have to review, and no matter how much activity we were having at the time, this was extremely impractical and cumbersome. Plus, having the cameras in the right place meant a certain amount of needed portability and, at the time compounding the problem, good quality video cameras were rather large and bulky. Then there was the question of weatherproofing the hardware, etc. The list of problems and the prohibitive cost seemed insurmountable and as I told several researcher friends at the, "I'll bet this kind of system would be feasible in the not-to-distant future." Meanwhile, from 1992 to 2002, I logged hundreds of UAP/AAO/UFO sightings flying around above the greater San Luis Valley.
Map below: Each saucer represent FIVE sighting events. Each black triangle and bigfoot print equals ONE report. The "portals" are suspected areas where "dimensional doorway"-type activity has been reported.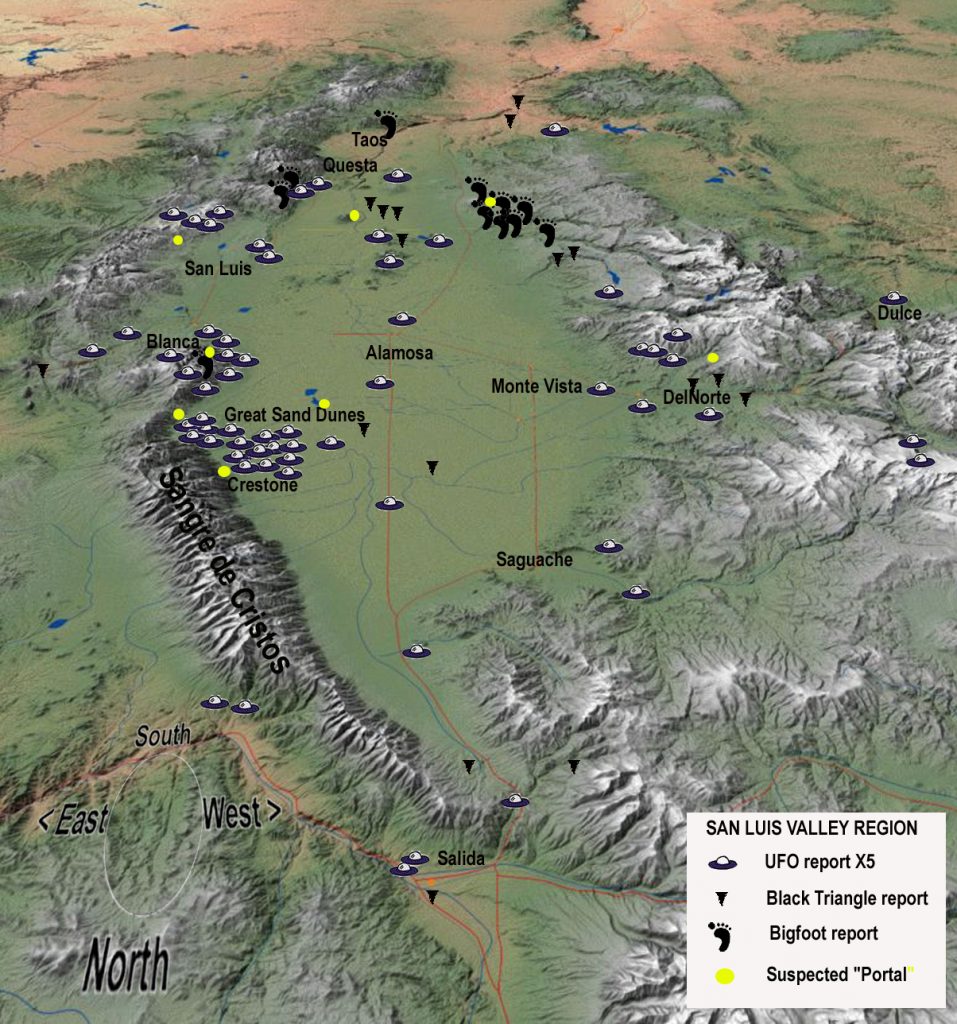 Fast forward 13 years. Welcome to the future! In 2007 I met ex-aerospace intelligence agency contract lawyer Wayen Hollenbeck at a special invitation event I arranged for Ray Stanford in Sedona, AZ where I had moved. Wayne, who know about Sedona's reputation for fairly consistant UFO sighting activity, had brought a high-tech Sony surveillance camera with the idea of convincing me to set it up in my area to attempt to capture some sightings and transmit them to him in California via the Internet. It was then that it dawned on me that in 2007 w/ the Internet, my vision of surveilling the SLV had a chance of finally being realized! By 2010 we had a camera atop a 100′ tower in downtown Alamosa, CO—the largest SLV town. Unfortunately, the building was sold after the camera had only been up a couple of months, and we had to take it down, but we did manage to capture several interesting clips.
The following clip shows a small two person helicopter entering the frame midway up the right side of the frame. If you notice, the sun hits the candy at just the right angle, and the chopper blooms into a perfect silver sphere and sails across the middle of the screen from right to left. Now, if I was unscrupulous and had compromised intentions, I could have simply cut out the first few frames and voila', I would have had sensational silver UFO sphere footage. But, as fans of my work and my friends have known for a long time, that's not why I'm involved in the serious research, I want answers and I also want to help educate the public as best I can.
The Dream Comes True! 
Fast forward to September 2018. After several false starts, the SLV Camera Project has joined forces and combined efforts w/ software/computer engineer, inventor Ron Olch. Ron, a longtime computer scientist w/ Disney, Ron is our newest team member and the project has now morphed and fine tuned its scope as a potential world-wide effort—now called UFO DAP which stands for UFO Data Acquisition Project.
What is UFODAP? Well, I can safely say that our project is a major leap forward for the currently sorry-ass field of "scientific" ufology. Let's face it: the scientific study of UFOs is is woeful shape. The wheel is not only off the vehicle, it bounded down into a ravine years ago. If ufology was a car, we have been trying to drive it forward on three wheels by using the rear-view mirror to try and see where we're going. This has been the case for decades and for far too long, the field has been fixated w/ old, anecdotal cases and questionably attempts at viable database mining. Garbage in/garbage out, as they say. It's about time that a group has devoted the necessary time, talent, and money to come up w/ a real potential for real-time, hard data acquisition of scientific principles behind UFO events. Welcome to the future!
Overview of the UFO Data Acquisition Project (UFODAP)
For 70-plus years, the so-called field of "scientific ufology" has been a misnomer for truly viable UAP/AAO/UFO research and investigation. The effort to ascertain the nature and capabilities of these mysterious objects has been stymied by the mercurial aspect of their tricksterish manifestation, and the prohibitive cost of viable, diagnostic technology. What we've been left with is a bewildering, growing pile of anecdotal reports that are impossible to analyze effectively. Something has to change, someone has to do something and perhaps this perplexing conundrum may have finally been solved with UFODAP.
UFO Data Acquisition Project's (UFODAP) first deployment in the The San Luis Valley, CO involves  pan/tilt/zoom video cameras and multi-sensor data acquisition sensors installed to properly record real-time UAP/AAO/UFO events. These instruments will document anomalous aerial objects in our first location, America's most active UFO "hot spot." The system will grow from two initial cameras to a three camera system with data sensors to be added as time and funding permit—hopefully next spring. Multiple cameras and sensors allows for all-important "triangulation." The triangulation feature will permit an evaluation and determination of object size, distance, altitude, speed and acceleration.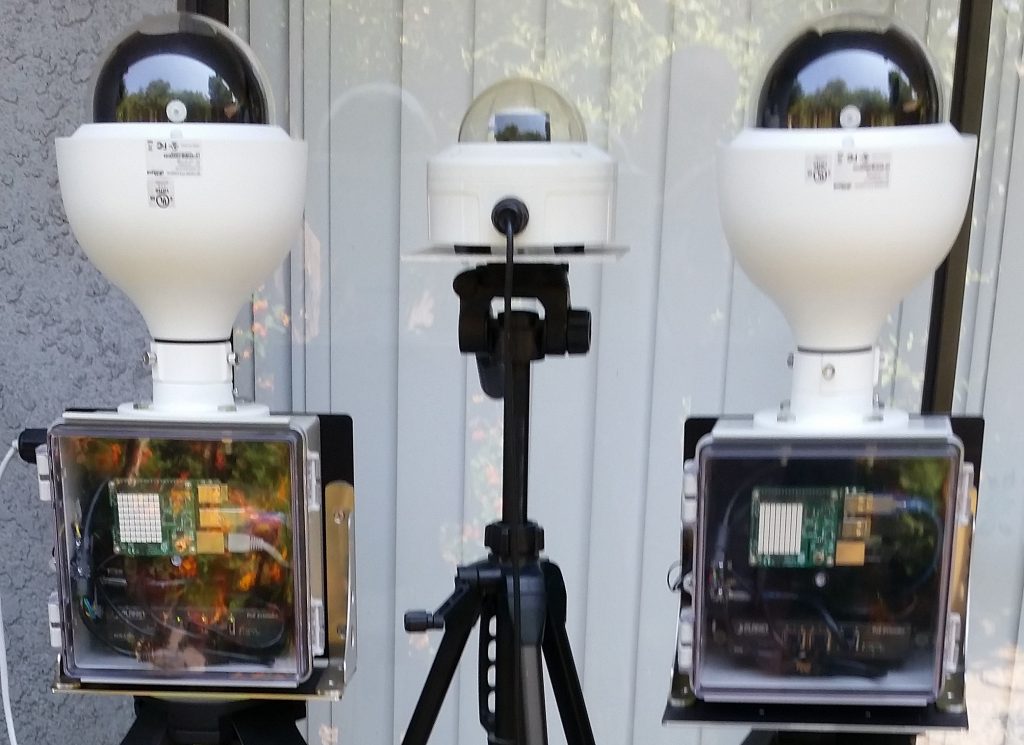 The system's cameras will be controlled by customized, motion tracking software and our triangulation software. When anomalous movement is detected by the automatic motion detection software, the system will go into record mode as the cameras coordinate their function and follow the moving objects, zooming in for better identification. With multiple cameras, the triangulated position of the object will also be located on Google maps for precise GPS location and tracking. This position will be recorded along with coordinated video and data from the cameras and the other sensors.
This amount of scientific information has never before been publicily accomplished in UFO event detection, and this is the first time a project of this size and scope has been initiated in the private sector.
UFODAP is also slated to include recording sensors to determine changes in the Earth's magnetic and gravitational fields. Electro-magnetic detectors and other measuring equipment will be encased in environmental enclosures—all operated over the Internet under automatic control of our unique customized software. These enclosures protect the gear from minus -40F degrees to 120F degree environmental conditions.
We have started a gofundme campaign and the funds will be used to procure and build more of these sensing equipment packages, pay for installing and maintaining the initial field equipment, and will also help offset Internet service costs and pay other costs incidental to advancing the project.
It is our goal to expand a growing network of these triangulated sensor systems to other hot spots around North America and then the world. Some possible additional locations include: San Pedro, CA; Mt. Adams, WA: Dulce, NM; Pine Bush, NY; White Sands, NM; Black Hills, SD: Bridgewater Triangle, New England, etc.
We are scheduled to begin installation in the San Luis Valley—our first location—in mid-September 2018
Our engineer, Ron Olch, has spent over 5,000 hours and written 10K +lines of code and done a masterful job developing these sophisticated software programs and the hardware interface. All of this work over with an intensive four-year effort. The UFODAP team is excited and eager to finally become operational so thank you for your interest and for YOUR kind support!
MOTION TRACKING AND TRIANGULATION SOFTWARE
Here is a link to watch an example of the UFODAP motion tracking software identifying motion and then tracking the acquired object, in this case, a jet headed for a landing at Bob Hope (Burbank) Airport. Events will be recorded both with and without the bounding/targeting boxes. Our engineer, Ron Olch, has done a masterful job creating this sophisticated software program!
UFODAP's engineer, Ron Olch's  focus has been on developing a user-friendly system to autonomously recognize, track and video capture anomalous objects. While this sort of capability has been investigated by other groups and other systems have been built, none that we know of are of such low cost that we could expect the kind of significant numbers to be deployed to have a practical impact on Ufology. By "low-cost" We are assuming a unit cost of perhaps $2500 or less. Thus, over the last two years significant progress has been made on an Anomalous Object Data Collection System (AODCS) that attempts to address this issue. The low cost per unit will insure that many of these sensor packages could be operational around the world in a few short years.
The current prototype version consists of a Windows OS personal computer and one or two cameras. The system supports a wide-range of supported cameras including USB webcams up to sophisticated all-weather IP cameras with pan and tilt as well as optical zoom. The software architecture is designed to adapt to most any camera or Pan-Tilt-Zoom (PTZ) mechanism in the future by addition of a single software element, without modification to the main AODCS software. High-end systems could also utilize nitrogen-cooled, long range FLIR cameras.
In dual camera applications, one camera may be a non-PTZ type that views a wide field of interest including fisheye "all-sky cameras." The second camera would be a PTZ camera directed to point at the object based upon its relative location in the field of view of the wide angle camera. Whether using one camera or two, the processor samples frames from the wide-field camera and through some fairly sophisticated image analysis, detects qualified moving objects. It then directs the pan-tilt head to point the telephoto cameras at the object and collects images from them. Our cameras feature low lux ratings, fast slew rates and 30-36X optical zoom.
The targeting software is capable of acquiring an object of interest and smoothly tracking and zooming even with a single camera. Maintaining track while moving the camera, which causes the background to also move, was a significant part of the development effort to date. The software architecture employed allows for support of additional cameras, whether simple or sophisticated, including those with fast PTZ operation, higher resolution or IR spectrum devices. Ron Olch has already written over 10K lines of code and spent 5000 hours developing the software and hardware interfaces over the past four years!
The software also provides a number of related functions which include:
When a qualified anomalous event is detected, the system will automatically send an email to a designated address with data that includes attached photos, GPS coordinates of the camera and object azimuth and elevation.
Saves automatically named photos and videos to folders it creates in local memory.
Operational parameters can be adjusted by sending an email to an AODCS-specific email address.
A sophisticated Graphical User Interface (GUI) for user-friendly operation.
Upload saved data to shared data storage such as Dropbox or Google Drive.
Mechanical design of the sensor/camera assembly allowing the system to be tripod- mounted for temporary field use or building- or pole-mounted for longer duration data collection.
Support of various IP cameras allowing the AODCS software to monitor a camera at an arbitrary distance over the internet, in addition to using such cameras locally.
THIS is REAL scientific UAP/AAO/UFO hard data research people! Don't sit idly by—become a part off the solution! Thanks again for your help and interest in our groundbreaking endeavor. YOU can help make history by contributing to the UFODAP crowd funding campaign! Go to: http://gofundme.com/ufodap-slv
And give what you can. Every little bit helps us build more MSDAUs, buy more cameras so that we can spread these systems to hot-spot are4as around the United States, and eventually the world! Be a part of the solution today!