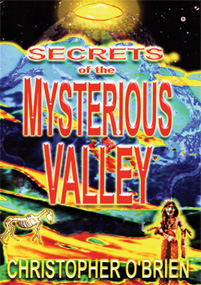 No other region in North America features the variety and intensity of unusual phenomena found in the world's largest alpine valley, the San Luis Valley of Colorado and New Mexico. Since 1989, Christopher O'Brien has documented thousands of high-strange accounts that report UFOs, ghosts, crypto-creatures, cattle mutilations, skinwalkers and sorcerers, along with portal areas, secret underground bases and covert military activity.
This mysterious region at the top of North America has a higher incidence of UFO reports than any other area of the continent and is the publicized birthplace of the "cattle mutilation" mystery. Hundreds of animals have been found strangely slain during waves of anomalous aerial craft sightings.
Is the government directly involved? Are there underground bases here? Does the military fly exotic aerial craft in this valley that are radar-invisible below 18,000 feet? These and many other questions are addressed in this all-new, work by one of America's top paranormal investigators. Take a fantastic journey through one of the world's most enigmatic locales!
Paperback: 441 pages
Publisher: Adventures Unlimited Press (May 1, 2007)
Language: English